THE 28-GAUGE NATIONAL INVITATIONAL
         Combine beautiful early October weather, challenging targets in a picturesque setting with a 28 gauge in your hand and you have the makings of a perfect day. The West Virginia leaves were just beginning to turn heralding Fall about which sporting clays owes its founding; to duplicate shooting game, feathered and fur, and sharpen us up for upcoming season.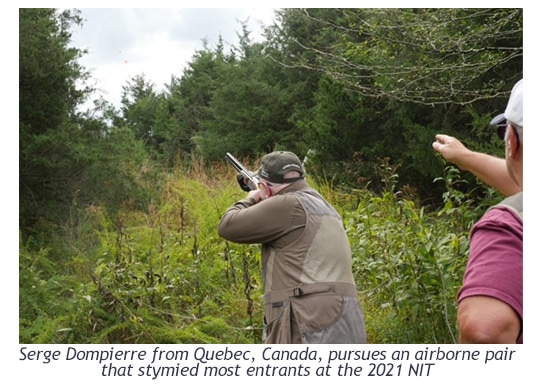 Prospect Hall is a historic site in West Virginia just over the Virginia-West Virginia border. In the late 1700s Lord Fairfax deeded 639 acres of rolling land to Joseph Edwards. Edwards died in 1797 and his will specified that the land be sold. A recently immigrated German, Peter Hunsicker and his wife, bought 196 acres upon which they built the present manor house that was completed in 1804. He named it Prospect Hall. In its secluded neck of the woods Prospect Hall was spared the ravages of the Civil War, and although it has changed ownership several times, each time it was updated until in its current luxurious setting it affords overnight accommodations to shooters, fishermen ─ there's a trout stream just down the hill ─ and hunters, and a wide variety of shooting from clays to walk-up upland and driven-style birds. It is a private member-only club. It's here that Toby Davis stages his National Invitational Tournament dedicated solely to the 28 gauge.
         The European-style start placed all the squads on one of 16 stations on the course for a 10 a.m. takeoff. Rather than using set stations the stations were placed to take maximum advantage of the topography, forest, brush and about every other setting to confuse the shooter. During the course of the shoot, about everyone on my squad commented on both the difficulty and fairness of the targets. I shot with a retired firefighter from Baltimore, a retired Marine ─ being an Army retiree I reminded him of his poor choice of service ─ and a special guest from Québec, Canada Serge Dompierre. A widely traveled hunter who owns a superior bird hunting lodge (Los Chanares) in Argentina, he proved a formidable opponent to the course. Shooting his sidelock Beretta Dompierre's years of experience in the field shown through. Serge was double the fun for me as I lived in Québec City for three years and married a lovely French Canadian in the process. It was fun to trot out my somewhat limited and rusty French and talk with Serge as days of old.
         The shooting ended about noon and we were treated to scrumptious southern fried chicken with all the trimmings. Predictably the perennial winner was Pennsylvanian Joe Zeitler with a 91, and his son Parker won the Sub Junior ─ the apple apparently didn't fall far from the tree!
         At the beginning of shooting for sport, live pigeons were shot, but soon a substitute was sought and came in the form of feather-filled glass balls. Attributed to famous trap-shot A. H. Bogardus, who in 1877 introduced his "Bogardus Trap" to the shooting world. It would throw a glass ball about 60 feet in a long arc. The balls were specially cast with ridges so that pellets wouldn't slip off but rather break the ball that then exploded in a shower of feathers. Tournament founder Toby Davis searched out a glass maker who makes reproduction balls symbolic of clay shooting's heritage, that were awarded as prizes to the events' winners.
         It was interesting that during the day I heard more than one shooter comment that, "It is sure nice to get the small gauges away from my 12-gauge classification." In a way that's nice, but with only the more rapidly thinning pattern of the ¾-ouince 28-gauge load as handicap, it will grind 'em up with great regularity with negligible recoil. For a beginning shooter or others affected by recoil, the 28 is the perfect gun. Now if we could just find some shells!
For further information, email Toby Davis at cdavistoby@gmail.com.